"Thank you for your support, trust and commitment."
On 15th June 2000, 20 years ago, the first trade was executed on a small power exchange based in Leipzig. This is where everything started, so naturally, it is a good reason to celebrate!
Over the past twenty years, we have massively increased our product range, trading volume and number of participants. Today, we operate energy and commodity markets across the globe and serve customers in Europe, Asia and North America. For the third year running, we are the number one exchange group in power trading and aim to establish EEX Group as the preferred global commodity exchange. We just reached another milestone also becoming the number one exchange in the global freight market.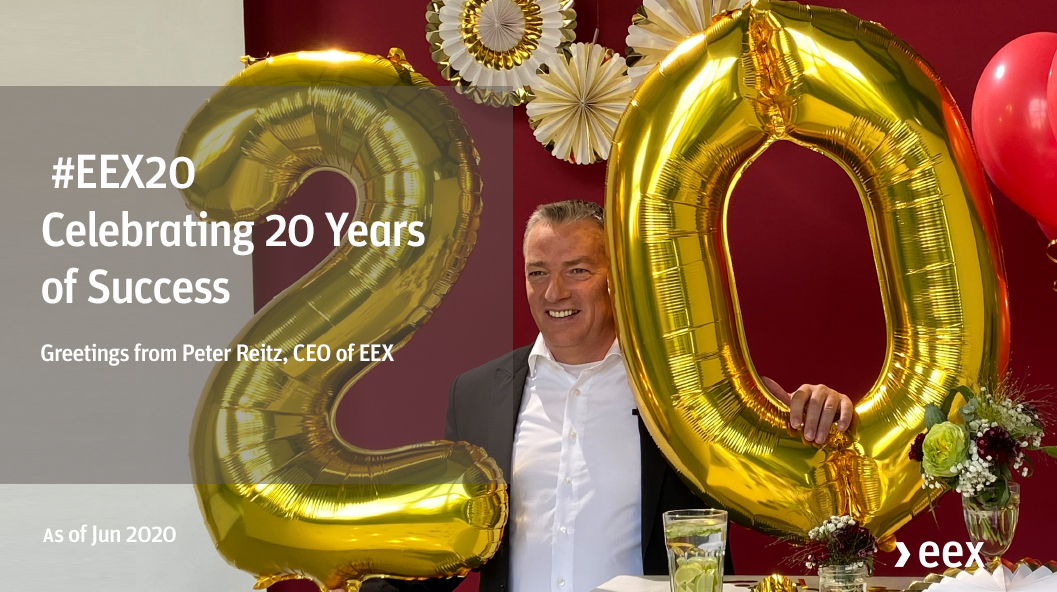 Greetings from Peter Reitz, CEO of EEX
Notice: To activate the video, please click on the picture. Please note that after activation your data will be forwarded to YouTube.

#GoingGlobal – Together with you
EEX is customer-orientated, innovative and driven by the ambition to build liquidity in energy and commodity markets, working closely with our customers and partners. We are part of a global exchange group, alongside eight further companies, with specialist know-how for the markets we operate in.
What began as a local electricity exchange in Leipzig has developed rapidly. After the establishment of a liquid spot market, EEX launched power derivatives and entered markets such as emissions and natural gas. The creation of our clearing house ECC was a major milestone for becoming a leading energy exchange in Europe and the nucleus of EEX Group. Today, we are No. 1 in power trading worldwide and No.1 exchange in dry bulk freight trading worldwide.
Facts & Figures: From a local power exchange to a global commodity exchange - take a look on our facts and figures and our achievements from the last 20 years.
#GoingGlobal
From a local power exchange to a group of companies with eight partners worldwide that form EEX Group
#OneTeam
From ten employees in 2000 to over 700 employees across 17 EEX Group locations worlwide
#Network
40 trading participants from seven countries at the end of 2000. Today, we connect more than 650 participants in 38 countries acros the group.
#GoingGlobal
From Leipzig as first location in 200, we expanded toÂ
17 EEX Group Offices
in Europe, North America and Asia.
#Growth
Offering four power contracts in June 2000 - now almost 1,500 contracts for power, natural gas, environmentals, agriculturals & freight
#Homeof
powertrading
Started withe the German/Austrian market area, we are now operating
20 market areas
across Europe and just launched products for the Japanese market.
#Emissions
Since launch in 2010 we have carried out
1,895 emissions auctions
(EUA+EUAA) for 30 countries.
#Power
Over the past 20 years, more than 20,000 TWh electric power had been traded.
#NaturalGas
Moren than 10,000 TWH natural gas have been traded since market launch in 2007.
#Power
Derivatives
Launched in July 2002, 119 TWh were traded by the end of the year, in 2019 5,830 TWh.
+4,800%
Twenty-year anniversary
Integration of Powernext and Gaspoint Nordic into EEX AG (as of 1 January 2020)
EEX takes over 100% of the shares in British software company KB Tech Ltd.
EEX world market leader (in open interest) in Freight Trading for the first time
Nodal becomes the largest Power Exchange in the USA for the first time
EEX extends trading on the Power Derivatives Market to 20 European market areas with the addition of Slovenia, Bulgaria and Serbia
Acquisition of the commodity business of Nasdaq Futures, Inc. (NFX) and merger of the Open Interest to ECC and Nodal Clear
Nodal launches the worlds first Trucking Freight Future
Acquisition of Grexel Systems
Start of separate Spot Market auctions (EPEX) for Germany and Austria
Nodal Exchange launches North American environmental products
ECC receives recognition as clearing house by MAS (Monetary Authority in Singapore)
Foundation of EEX Asia and ClearTech strengthens the presence of EEX Group in Asia
Acquisition of Nodal Exchange (EEX Group now also represented in North America)
Migration of the PXE products for Eastern Europe to the EEX platform
German-Austrian Price Zone Split: Launch of the Phelix-DE and Phelix-AT Futures
EEX Group becomes largest power trading platform worldwide
EEX gains market share in the Spanish Power Market and provides leading exchange platform for the first time
PXE becomes part of the EEX Group: Power Derivatives Markets for Czech Republic, Slovakia, Poland, Hungary and Romania
Migration of Gaspoint Nordic and CEGH to PEGAS platform
Entry into global commodities: Freight contracts cleared via EEX/ECC for the first time
Migration of Eurex agricultural products to EEX
PEGAS gas markets exceed 1,000 TWh for the first time
EEX acquires majority stake in Cleartrade Exchange (CLTX) based in Singapore
EEX acquires 50% stake in Gaspoint Nordic
Powernext and EPEX SPOT become part of the EEX Group
Acquisition of 100% of the Dutch APX
Start of PEGAS cooperation (bundling of all-natural gas products of EEX and Powernext on one trading platform)
Start of futures for guarantees of origin
ECC takes over clearing for the Czech Power Exchange Central Europe (PXE) for power and gas
Start of day and weekend futures on the power derivatives market
EEX wins contract for Europe-wide primary market auction of emission allowances
Opening of the first office outside Germany, in London with four employees
Start 24/7 spot trading for natural gas
Eurex becomes majority shareholder
Ten-year anniversary
Start clearing for the partner exchange HUPX
CWE Market Coupling, Franco-German Intraday Cross-Border Trading and publication of the European Electricity Index, ELIX
Angela Merkel visits EEX in Leipzig
Number of employees exceeds 100 for the first time
Foundation of the ECC subsidiary in Luxembourg
Launch of the EEX Transparency Platform (in cooperation with the TSOs)
ECC starts clearing for CEGH
Start of EEX Power Derivatives GmbH
Creation of EPEX Spot SE (Paris-based) with EEX Power Spot GmbH as a 100% subsidiary of the new company
ECC takes over clearing for Powernext
Start of natural gas trading for two market areas Germany
Strategic spin-off: EEX Power Spot GmbH
Start EEX Eurex cooperation in emissions trading
Start of cooperation with the French Powernext
Spin-off of European Commodity Clearing AG (ECC), receives a banking license in the same year
Cooperation with the first partner exchange ENDEX (clearing of TTF gas futures)
Fifth anniversary
Start of trading in EU emission allowances under the EU ETS
Recognised price signals: EEX prices are the reference for the Act on the Revision of the Law on Renewable Energies in the Electricity Sector of 21 July 2004
Successful start of OTC clearing
100th trading participant
Merger of LPX and EEX to establish the European Energy Exchange AG (EEX) with headquarters in Leipzig
Launch of power exchanges in Germany: LPX based in Leipzig starts in June, EEX based in Frankfurt starts in August
EEX Group – the powerhouse of Deutsche Börse
Dear EEX, happy 20th anniversary! To continued growth and future successes!
Theodor Weimer, CEO of Deutsche Börse, on EEX's role for Deutsche Börse
"Deutsche Börse creates trust in the markets of today and tomorrow – with innovative products, best-in-class services and forward-thinking colleagues across all businesses. In 20 years, EEX has developed from a niche operator to a veritable growth engine for our organization and a major driver of the sustainability efforts in the financial industry. In the area of commodity and energy trading, EEX is now our true powerhouse and continuously sets new standards. I am proud to have EEX as vital part of Deutsche Börse Group, and we are excited to accompany them on their very promising journey ahead. Peter certainly knows how to build a successful business, and EEX undoubtedly has a great future ahead. To continued growth and future successes!"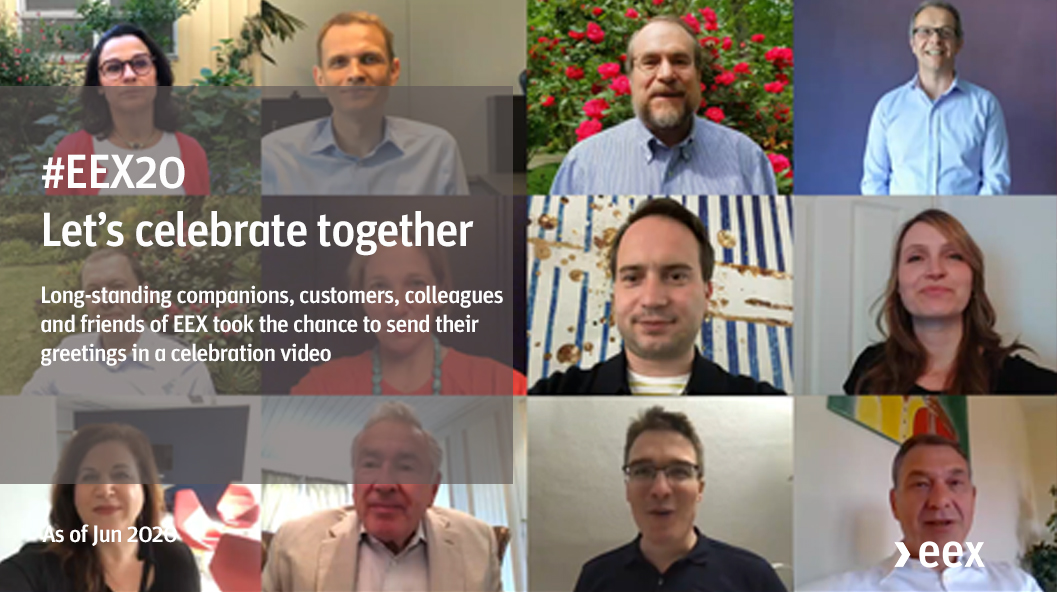 Let's celebrate together
We would have loved to celebrate our 20th anniversary with you at our Get Together Party in Leipzig, which is unfortunately not possible this year.
Long-standing companions, customers, colleagues and friends of EEX took the chance to send their greetings in a celebration video.
Notice: To activate the video, please click on the picture. Please note that after activation your data will be forwarded to YouTube.
Let's exchange memories from 20 years of EEX parties
"Until we meet again, please take care and stay tuned on our social media channels."
#EEX20 in the News
EEX is an unparalleled success story Interview with Peter Reitz
Peter Reitz CEO of EEX, speaks in an Interview with Stefan Sagmeister - Editor-in-chief of Energie &
Management - about the future, present and past of the exchange.Â
Interview in Energie & Management
Twenty Years of Energy Trading - a comment piece of Peter Reitz
CEO of EEX AG, Peter Reitz´s comment on the last twenty years of energy exchange - "Lessons Learned" for the Future
Articel published in Börsenzeitung
Reach out
Find us at the office
Gieser- Madigan street no. 4, 89728 Tokyo, Japan
Give us a ring
Danyelle Malanche
+96 551 917 434
Mon - Fri, 10:00-17:00